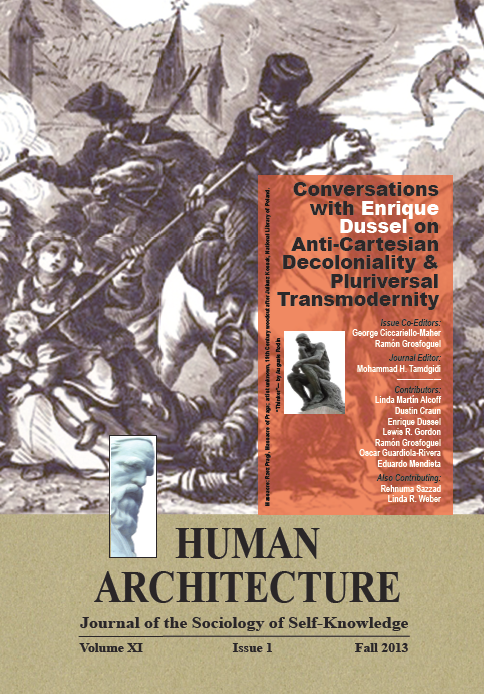 ---
Conversations with Enrique Dussel on Anti-Cartesian Decoloniality & Pluriversal Transmodernity
---
HUMAN ARCHITECTURE
Journal of the Sociology of Self-Knowledge
Volume XI • Issue 1 • Fall 2013
---
Journal Editor:
Mohammad H. Tamdgidi, UMass Boston
Issue Co-Editors:
George Ciccariello-Maher, Drexel University
Ramon Grosfoguel, University of California at Berkeley
---
Description
This Fall 2013 (XI, 1) issue of Human Architecture: Journal of the Sociology of Self-Knowledge, is entitled and dedicated to "Conversations with Enrique Dussel on Anti-Cartesian Decoloniality and Pluriversal Transmodernity." Despite the long established recognition and reputation of Dussel as the most prolific, creative, and influential living Latin American philosopher, a limited portion of his writings has hitherto appeared in English. Exiled to Mexico from his native Argentina more than 35 years ago, Dussel has written more than 70 books and hundreds of articles ranging from theology to history, from philosophy to politics. Increasing interest in his work has been emerging among students and educators interested in developing liberating social theories and philosophies from the Global South. The present volume is one emerging response among many to Dussel's call for a "South-South Philosophical Dialogue" in order to advance the cause of decolonization and liberation of inner and global human realities. Contributors include: Enrique Dussel, Eduardo Mendieta, Oscar Guardiola-Rivera, Linda Martín Alcoff, Lewis R. Gordon, Ramón Grosfoguel (also as journal issue guest editor), Dustin Craun, Rehnuma Sazzad (including both her article and her review of the book of poetry by the Palestinian-American poet Lisa Suhair Majaj), Linda Weber, George Ciccariello-Maher (as journal issue guest editor), and Mohammad H. Tamdgidi (also as journal editor-in-chief). Human Architecture: Journal of the Sociology of Self-Knowledge is a publication of OKCIR: The Omar Khayyam Center for Integrative Research in Utopia, Mysticism, and Science (Utopystics). For more information about OKCIR and other issues in its journal's Edited Collection as well as Monograph and Translation series visit OKCIR's homepage.
---
To order the complete volume of this journal issue, please visit the links below:
To read individual contributions of this volume that are freely accessible online, please click on the title of each contribution in the table of contents below.
---
Contents
vii—Editor's Note: I Think; Therefore, I Don't—Tackling the Enormity of Intellectual Inadvertency
Mohammad H. Tamdgidi, University of Massachusetts Boston
1—Introduction: Enrique Dussel´s Multiple Decolonial Contributions
Issue Co-Editors: George Ciccariello-Maher, Drexel University, and Ramón Grosfoguel, U.C. Berkeley
3—Agenda for a South-South Philosophical Dialogue
Enrique Dussel, Universidad Autónoma Metropolitano, México
19—Justice after the Law: Paul of Tarsus and the People of Come
Eduardo Mendieta, State University of New York, Stony Brook
33—Law, Globalisation, and Second Coming
Oscar Guardiola-Rivera, Birkbeck School of Law, University of London, UK
57—Philosophy, the Conquest, and the Meaning of Modernity: A Commentary on "Anti-Cartesian Meditations: On the Origin of the Philosophical Anti-Discourse of Modernity" by Enrique Dussel
Linda Martín Alcoff, Hunter College and the Graduate School, C.U.N.Y.
67—Thoughts on Dussel's "Anti-Cartesian Meditations"
Lewis R. Gordon, University of Connecticut at Storrs
73—The Structure of Knowledge in Westernized Universities: Epistemic Racism/Sexism and the Four Genocides/Epistemicides of the Long 16th Century
Ramón Grosfoguel, U.C. Berkeley
91—Exploring Pluriversal Paths Toward Transmodernity: From the Mind-Centered Egolatry of Colonial Modernity to Islam's Epistemic Decolonization through the Heart
Dustin Craun
115—The Voice of a Country of Called 'Forgetfulness': Mahmoud Darwish as Edward Said's "Amateur"
Rehnuma Sazzad, Nottingham Trent University, UK
127—Lisa Suhair Majaj's Geographies of Light: the Lighted Landscape of Hope (Book Review)
Rehnuma Sazzad, Nottingham Trent University, UK
135—Deep Learning in the Sociological Classroom: Understanding Craving and Understanding Self
Linda R. Weber, SUNY, Institute of Technology, Utica, NY
---